How exciting to turn on my computer the other morning and find that Lauren from
The Traveling Teacher
had nominated me for a Liebster Award - a fun way to discover new blogs (like this one)! Thanks, Lauren!
Now I have the (somewhat awkward) pleasure of talking about myself in this post. (I am sooo much better at talking about random school-ness than myself.) So, if you choose to read on, here's what you're about to find out about me:
The Acceptance "Rules"
1. Link back to
Lauren's blog
(because she nominated me, of course)
2. Nominate 5-11 new blogs with fewer than 200 followers
3. Answer the questions posted by
Lauren
(my nominator)
4. Share 11 Random Facts about myself
5. Create 11 questions for the blogs I nominate
6. Contact my nominees & let them know!
Whooooooaaaa! That's a lot for this one little blog. Okayyy, here it goes...
1. What song describes your personality?
Carry On, by FUN - I'd like to say it's because I can always keep trudging on in adverse times (like this past school year, wow!) but really I just like this song a whole lot at the moment. It's probably not quite "fun" enough for my personality. (See how I did that? Ha!)
2. What is one item in your classroom that you could not live without?
I couldn't live without my chart paper & (ok, I know it said "one" but...) my Crayola Poster Markers. I have about 10 packs of these markers because I go through them so fast that I feel the need to pick up a pack anytime that I see them in the store.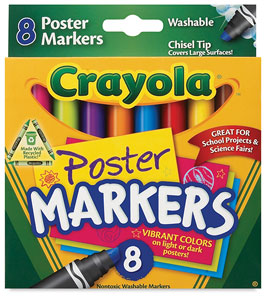 3. How did you end up teaching at the school you are at?
After college, I looked and looked for a job (they are soo hard to come by in rural PA). Finally in August, my best college friend called me. She'd just been hired at a school & they were still looking for a first grade teacher. I sent my application in that very afternoon. I felt like my interview was a disaster (I cried during it & afterwards my car battery was dead, ughhh). But they gave me the job (two days before school started - OMG) & it's been an amazing journey so far. And now that I'm heading into this military life, stay tuned to see where my next teaching adventure will be...
4. If you weren't a teacher, what would you be?
A wedding planner! I can just picture myself pulling off a wedding like J-Lo. I love planning a party and having friends over - I don't get to do it nearly enough. Now, let's hope that my inner wedding planner can make it through these next 4 months till my own wedding... hurrrrry November!
5. What is your favorite hobby outside of school?
I love to get a good workout in. It's my favorite thing to do either early before school or right away when I get home. A good run outside or a kickboxing video with Jillian Michaels can clear my mind & make me refreshed to deal with my little learners again. Bonus: I feel energized & just amazing after a workout!
6. What is your favorite unit/concept to teach?
Pre-Common Core, one of our science/social studies topics was "animals" - how broad! But I always threw in a unit about the tropical rain forest. It's got to be my favorite of all time. We read so many fun/informative books, dig into them with a variety of comprehension skills, and create our own rain forest in the classroom (construction paper of course). Plus, I usually teach it at the end of the school year, & wow can those little firsties read big words by then! Love it.
7. If you could live anywhere else in the world, where would it be?
Anywhere my soon-to-be Mr. wants to go. I'd live in any state or country as long as he's beside me to share in the adventure. Although, Australia or Italy just might get my vote if I HAD to choose.
8. What is your favorite thing about having summers off?
Having time to travel! I loooove traveling & have been lucky enough to find some amazing friends who do, too! My bestie & I (sometimes along with others) always plan a girls' getaway in the summer. We're working on checking off all 50 states!
Here we are out in Washington back in June.
9. How do you spend your weekends during the school year?
During the past few school years, I've either reserved my weekends for fun with friends and/or my fiance. There have been many, many weekend trips to & from DE. I am so hopeful that this school year I won't have to be so on the run every weekend - woo hoo for living under the same roof!
10. How do you unwind after a long day of school?
A nice long run, an afternoon nap, & my DVR. If I've had a long school day, these are my go-to's!
11. If you could time travel, what era/time period would you go to?
I'd go hang out in the 50's. I love organizing my house & cooking dinner (thanks Pinterest). Unfortunately, those are definitely not the first things on my agenda during the school year. I think I would've made a fabulous 50's housewife. Just sayin'...
And now... 11 Random Facts about ME:
*I sometimes feel OCD & sometimes I couldn't care less that my house is a mess.
*I make a pretty banging carrot cake cheesecake.
*I met the guy I'm marrying in high school, but it didn't work out for nearly a decade.
*I love sending those funny ecards to my teammates to make them laugh.
*For the past 6 years, I've lived less than a mile away from my college roomie (that's her in my Washington pic above) & now I'll be almost 5 hours away - sadsville on that one!
*I think Melissa McCarthy is a
hysterical
actress.
*I grew up in rural PA & loved our house in the woods - it was like a secret hidden place.
*I am scaaaaared to pieces for the day that my soon-to-be hubby tells me he's going on another deployment.
*I
loooove
a good car karaoke session (preferably when I'm driving solo, ha).
*We're getting married on the Saturday after Thanksgiving (& my parents ALSO got married on the Saturday after Thanksgiving).
*I'm almost halfway done with my visit 50 states checklist.
Bloggers I'm Nominating (check out their cuteness):
Sara from
Primary Buzz
Elizabeth from
A Classroom of Smarties
Cindy from
First Grade A to Z
Jamie from
Teaching Tidbits & More with Jamie
Mrs. Z from
Mrs. Z & Company
Now if you're not nominated, you can stop reading. :) If I nominated you, read on for your 11 questions!
1. Which holiday is your favorite & why?
2. Pick a new state in the US to live... where would you love to start over at?
3. Tell us your one top teaching tip of all time...
4. Are you a late nighter at school or do you bring your work home with you?
5. What is your preferred method of parent communication & why?
6. What song wouldn't you be able to resist belting out when it came on the radio?
7. What is your top summer read (educational or for enjoyment)?
8. Have you had a "that's why I became a teacher" moment during class? Details, please...
9. What is the most adventurous thing you've ever done?
10. How do you get to school each day (are you a walker, bus rider, car rider... ya know, ha)?
11. What is your all-time favorite dessert?